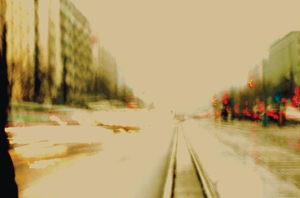 Lindsay Martell: singer/songwriter/guitar
My long and winding road,
Splitting formative years between suburbs of Toronto Ontario and Cape Breton, Nova Scotia, Canada, I was introduced at a young age, to the power of live music played with passion. House parties with song circles and acoustic instruments were  not uncommon in Cape Breton. I remember there was a piano in most homes there. You never knew when someone might sit down to play. The voices of everyone in the house would join in harmony as spontaneous music would occur. I remember lively musical affairs filled with home made food and stories and punctuated with laughter. 
Growing up in the  1970's, there was also the ever present AM radio popular music soundtrack to be sung along with. I was given a guitar by my parents at about the age of 12, I think because I was constantly singing, around the house, in the car, wherever I was hearing music coming at me, and my musical journey had begun. My early music education came somehow by association, from constant exposure to the music around me.
After finishing high school in Cape Breton, I spent two years in university in Ottawa Canada. Having been bitten by the music bug, much of my "study" time in Ottawa was spent playing guitar and singing songs with a guitar playing university friend. We practised an acoustic duo set, and eventually did one short gig. My fate was sealed upon the energy of that first stage experience. One year later I left Carleton University before finishing my degree.  I travelled west to Calgary Alberta in summer of 1982 determined to change my focus towards music and find some kind of band to join.
In 1983 I made an audition video for a local musicians referral service. That audition video lead to my first offer to play in an already established working band based out of Calgary, as lead vocalist and rhythm guitar player. In the bitter cold of a prairie winter of 1984, I was suddenly actively chasing my dreams, on the road in a band (Diamondback) playing country rock 5-7 nights a week in local pubs and honky-tonks,  throughout western Canada.  
In 1986 I joined "The Walkers," a pop cover band, as a lead singer and rhythm guitar player, again travelling playing rock, country and blues.  Touring constantly, we performed in clubs and pubs on the vibrant bar band circuit in the mid 80's in western Canada.
In September 1988 I moved to Nanaimo, on Vancouver Island BC, Canada to attend Malaspina College (now Vancouver Island University) and study music in their 2 year Jazz Music Diploma program. Immersed in the program, I gained an invaluable understanding of the language of music. After two years of formal music school studying jazz, I drifted back to rock, folk, country, rock and roll and blues, and worked continuously playing in pubs, night clubs and festivals, or wherever I or my band could find a gig.
While at Malaspina College in Nanaimo, some of my music college classmates and I started jamming together at school. We called our band Rubber Soul and played our own brand of west coast funky soul music, with a horn section, groovy rhythm and multiple vocalists in the band. after the Malaspina school experience, Rubber Soul had a long run as 'house band' at the Queens Hotel in Nanaimo, and did tours of western Canada in the late 80's and early 90's. 
1996 I released the album "Moris" in Nanaimo BC.  Moris is the name of the band and of the only cd released by the group. It contained 11 songs of mine written between 1993-95. Moris was me on guitar and lead vocals, Jason Euringer on guitar and vocals, Todd Sacerty on bass, and Bob Wilson on drums. The Moris album was recorded with Rick Salt engineering and co-producing. It was the first ever release from the basement studio in the Queens Hotel building in Nanaimo BC. Also on the Morris album was a cover of "Room With The Sir John A View," written by fellow Canadian singer/songwriter and friend of the band, Sarah Harmer. Sarah sang backing vocals on our recorded version of her song. Canadian Acoustic Slide Guitar Legend Ken Hamm gifted his talent to the song "Fools Parade" on the album with his vintage dobro, and Kate Fenner (Bourbon Tabernacle Choir) with her beautiful voice, sang backing  vocals. Moris and Rubber Soul were part of a very vibrant live music scene happening at The Queens Hotel in Nanaimo and the many venues in the small city, and up and down the Gulf Islands and throughout western Canada 1980's and into the 1990's.
Moris won top awards at radio Q100's Rocktoria Contest in Victoria, and C-Fox's Demo Listen in Vancouver in 1996, was featured on MuchWest Music TV, KISM FM in Bellingham Washington's Locals Only Program. We played with energy to burn every night we hit the stage. From '95-'97 Moris made many friends in a short 2 year existence, and left behind a small musical snapshot of our time in the 90's west coast rock scene.
1996 - 1998 I hosted a weekly evening of live original music at the Queen's Hotel in Nanaimo which gave a platform for performance and promotion of unsigned original talent from Vancouver Island. The weekly event called Locally Grown ran for almost 3 years and helped give the Moris band a launching pad.
I was also a founding member of the colourful polyester clad, disco revival band "Wunderbread," from Nanaimo, BC. I played rhythm guitar and sang with Wunderbread for 3 years from 1996 - 1999.
Between 1999 and 2007 I was constantly on the road, the sea or in the air, as my 4 pc band toured the globe. Stages on cruise ships, in major hotels, casinos, corporate events, festivals, or local pubs were my homes away from home, as I travelled the world playing music with my many talented musician friends, and those we'd meet on tour.
In 2005 I released "r_evolution" The cd is a collection of some of songs, recorded in two different studios on stops from travels between 1999 and 2005. Half of the songs on r_evolution were recorded with Bob Benson in Victoria BC, and the rest were recorded with Chris Aiken in Warsaw Poland.
I had been playing Warsaw Poland on a regular basis since 1999 after having been offered an opportunity to travel there for a 3 week engagement at The Sheraton Warsaw, which had opened in 1997 and started hosting international music acts in its "Someplace Else Pub." My recurring trips to Warsaw to play at the Sheraton established a presence and network for me in the local music scene there. In spring of 2006 I played an acoustic gig at a popular local pub/restaurant called The Warsaw Tortilla Factory, and my love affair with Warsaw became too much to deny, and precipitated my move there on a full time basis.  At the Tortilla Factory I enjoyed a long residency, making many lifelong friends as a result of countless solo gigs, and gigs with my band until 2015.
Between 2005-2007 I recorded another group of my songs with longtime musical collaborator and producer, Chris Aiken, at Chris' studio in Warsaw. The album was shelved unfinished in 2007, but was rescued from the vault, re-mixed and mastered by Chris Aiken in 2015, and "All This Time" was finally released in September of 2016. The title song "All This Time," was chosen as a semi finalist in the Album Adult Alternative category in the 2016 International Songwriting Competition from Nashville USA. This contest has upwards of 30,000 entrants every year.
I released another collection of songs titled "Trouble In Paradise" in 2011. Recorded mostly in the living room of my studio apartment, in Warsaw Poland, they were produced and mixed with the help of another good friend, Ferid Lakhdar, in his studio in Warsaw. Ferid is a multi instrumentalist, singer songwriter, music producer,  who is now Vice President, Association Of Authors Zaiks (Poland's Performing Rights Society - like SOCAN in Canada). The song "Home" from the Trouble In Paradise album was the second song of mine to be recognized as a semi finalist (2018) by the International Songwriting Competition in Nashville, a little nudge again to keep writing and recording.
While living in Warsaw, along with solo performances, I played with my bands The Barflys, Dirty Martini and the Lindsay Martell Band, also gigging as a studio session singer, lyricist, guitar player, and a guitar and vocal coach, collaborating with  many Polish artists in the studio on numerous recording projects, and live performances in clubs, at festivals, and on Polish radio and TV.
In 2015 I returned home with my wife and our son, to settle on the west coast of Canada. Now settled in the beautiful Cowichan Valley on Vancouver Island, my passion for making music carries on unabated. I continue to practice the craft of songwriting and music production from my home studio, and to sing and play live gigs wherever and whenever I can. I also coach/mentor guitar, voice, songwriting, and recording, and am available for commercial voice-over work which I can self record and produce from my home studio. You can message me directly via the contact page on this site for inquiries/bookings. 
Peace and Love and Good Music to you,
Lindsay